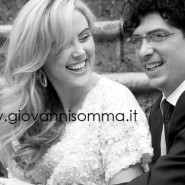 Save the date & Engagement in Positano. Le foto di Katie e Cristian
Pochi giorni fa, a Positano, ho avuto il piacere di fotografare una coppia speciale, Cristian e Katie. Napoletano lui, statunitense del Texas lei, si sono conosciuti e innamorati in Australia. Cristian ha deciso di giurare Amore eterno a Katie in questo scorcio incantevole di Costiera Amalfitana, chiedendole di diventare sua moglie. I due promessi sposi, per celebrare l'importante avvenimento, mi hanno chiesto un servizio fotografico spontaneo e naturale, che esaltasse allo stesso tempo la bellezza della location. Alcune delle foto scattate per il loro engagement saranno, poi, utilizzate per creare il "Save the date". Se non sapete cosa sia il "Save the Date", eccovi presto accontentati: di tradizione americana esso sta prendendo lentamente piede in tutto il mondo, varcando anche i confini del matrimonio, per il quale originariamente era nato. Il "Save the date" consiste in un avviso, molto spesso tramite cartolina, che dà notizia a parenti ed amici che due fidanzati hanno deciso di sposarsi, avvisandoli circa sei/dodici mesi prima della celebrazione delle nozze. Esso rappresenta, dunque, un anticipo delle partecipazioni nuziali.
A few days ago, in Positano, I had the pleasure of photographing a special couple, Cristian and Katie. He's neapolitan and she's texan and they met and fell in love in Australia. Cristian decided to swear eternal love to Katie in this enchanting place of the Amalfi Coast, asking her to become his wife. To celebrate this important event, the two fiancés asked me to do a photo shoot in a spontaneous and natural way, to exalt also the beauty of the location. Some of the photos taken for their engagement will be then used to create the " Save the date ". The " Save the date " is a card to advise the date and location of the party. This may be used when the event will be held in a distant location to allow for travel plans.